Bridges & Crowns in Powai, Mumbai

Bridges

Missing teeth can create a number of problems and a dental bridge can be the solution to these problems. Dental bridges are useful in bridging gaps between your teeth. Missing teeth can create numerous difficulties while biting, and may also affect your speech. Imbalances caused by a missing tooth can lead to oral health problems.To prevent the oral diseases caused by missing teeth, our dentists suggest bridges that will replace the gap between your teeth. A dental bridge is cemented into place, with the support of neighboring teeth.

The bridges are made of strong resins that will leave your mouth with a natural look, adding beauty and elegance to your smile. Proper and adequate care after the treatment can benefit you with long lasting results.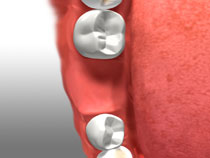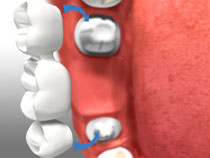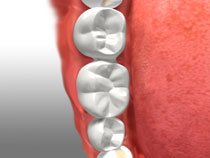 Crowns

Crowns are a type of dental restoration which is cemented into place to fully cove, caps or encircles that portion of a tooth that lies at and above the gum line. Composite fillings/inlays/onlays are dental restorations that are helpful to fill in or cover over just a portion of a tooth. As the dental crowns showcase the entire visible aspect of a tooth, a dental crown in effect becomes the new outer surface of the tooth.

Crowns are used to rebuild broken or decayed teeth, to also provide strength teeth, and to enhance the cosmetic appearance of teeth. Crowns can be made of porcelain/ceramic, gold alloy, or by using a combination of both. Dental crowns are also referred to as "dental caps".
 
To know more about crowns, contact or visit our dental clinic Dental Surgeons Planet in Powai, Mumbai
Please browse through our dental videos for Dental Bridges & Crowns