Full Mouth Restoration in Powai, Mumbai
Full mouth rehabilitation are procedures that include repairing of entire structure of your mouth. In case you have missing, damaged, infected, protruding teeth or other gum problems, Dental Surgeons Planet will provide a list of options to restore your full mouth. 

Full mouth restorations may include periodontic & endodontic treatments, dental implants, crowns, bridges and other dental treatments depending on the condition of your mouth. We will carry out comprehensive analysis of each patient's oral health and, with appropriate planning, will treat patients in the most comfortable way possible. This treatment is beneficial to restore your mouth to good health, as well as to improve the aesthetic impression of your smile.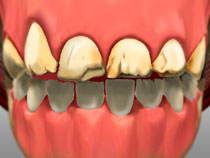 To know in detail about the procedure, visit our Dental Surgeons Planet in Powai, Mumbai.

Please browse through our dental videos for Full Mouth Restoration